Mary Schmid
Biography
Mary Schmid is a lover of life.
For more than four decades as a teacher, she has delighted in interacting with young students.
Teaching youngsters "inpowering", her word for developing self-confidence by focussing their thoughts to enrich their lives, has given her, and the students, great joy.
Her home, now, is in the Australian bush about 350km SW of Cairns, Queensland.
Books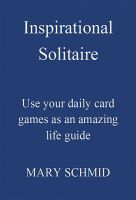 Inspirational Solitaire
by

Mary Schmid
In this book you will find easy instructions on how to find focus in daily life by using a regular game of solitaire. Each game of solitaire will be a source of insight when the contents of this book are consulted. The author describes it as an "inpowering" book because the contents raise awareness about the possibilities our everyday lives offer to live life to the full.
Mary Schmid's tag cloud