Mary Vasiliades
Biography
Mary Vasiliades is a novelist/playwright who combines her writing with her feminist adctivism and political concerns. She has been a newspaper reporter, magazine editor, speechwriter; several of her plays have been produced 0ff-off Broadway. In addition, she helped organize mass demonstrations for women's rights and held leadership possitions in feminist oganizations. Her activities have been documented in a CD, "Memoirs of a New York Feminist."
Where to buy in print
Books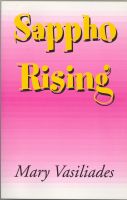 Sappho Rising
by

Mary Vasiliades
Sappho Rising is a fast-paced, rousing story that follows the parallel lives of lovers Hillary and Iris, whose homophobic families forced them to separate. One becomes a successful fashion photographer and the other, a fugitive living underground with a new identity. All hell breaks out when Hillary begins her frantic search to find Iris, no matter the consequences.
Mary Vasiliades' tag cloud