Mason Stoddard
Biography
Mason ventures to write for two hours each day, in addition to running two hours, creating feature films, and studying Mandarin Chinese. Needless to say, his reach often exceeds his grasp.

He studied creative writing and philosophy at in his native Idaho at BYU-Idaho before studying screenwriting at Chapman University. He is a filmmaker, having made several feature films and shorts, and remains an avid spectator of silent films.

He has lived as a teacher for many years in Estonia, China, and Russia.
Books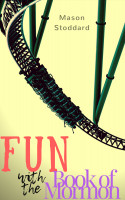 Fun with the Book of Mormon
by

Mason Stoddard
Called by some "the American Bible", The Book of Mormon is revered as a holy book by over 16 million people. Many a non-Mormon has picked up this American tome in an effort to understand Latter-day Saints' key scripture and has either come away baffled or given up altogether. If you're looking for a straightforward, neutral, and whimsical guide through The Book of Mormon, then this is your book.
Mason Stoddard's tag cloud