Matthew David Campbell
Biography
Matthew David Campbell was born into two Biblical names and a Scottish last name of a pack Cannibals. He is definitely poor in spirit, and unlike Biblical David he is not considered a king. After leaving NJ for the small towns of Maine and Vermont and college he gained a BA from U. Maine Machias, an MFA from Bennington College, had two sons and then his wife died from cancer. He moved back to NJ, remarried (to Beautiful Holly), gained a stepson, and had a daughter with his new wife. He sells graves and crypts to feed the human nuthouse, serving both the living and the dead...

His poems have appeared in journals including Spires, Idiom, and Tight, as well as the anthology The Brink: Post Modern Poetry from 1965 to the Present.
Books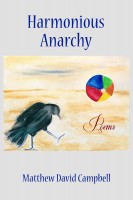 Harmonious Anarchy
by

Matthew David Campbell
Matthew Campbell's Harmonious Anarchy is full of the dark charm and grit particulars of heavy grieving. Full, too, of devotion and doubt. Always moving, these poems capture loss with nuance and complexity. ---Christopher Salerno, Author of Sun and Urn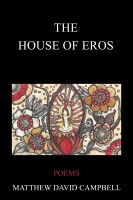 The House of Eros
by

Matthew David Campbell
The House of Eros is a chapbook collection of poems by Matthew David Campbell that is simply an intoxicating and intimate experience for all readers. Campbell merges sexual expression with images of religion, the body is the altar waiting to be open by the lover.
Matthew David Campbell's tag cloud