Matthew Thompson
Biography
Matthew Thompson was born in 1995 and lives in Cape Girardeau, Missouri. His favorite authors are J. R. R. Tolkien, Christopher Paolini, Brandon Mull, Alan Garner, and Suzanne Collins. He began writing at age eleven and has completed three full novels. In 2012, he was accepted into the prestigious Iowa Young Writers' Studio.

Although Matthew is involved with many extracurricular activities—playing the flute, Scholar Bowl, and several honor societies—he has always viewed writing as his greatest passion. In writing, he can escape to a world of his own creation.
Books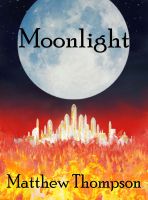 Moonlight
by

Matthew Thompson
Young Alaefin is visited one night by the mysterious Ilyra. She explains that demons have just escaped thralldom and invaded the land of Deloria and she needs his help to defeat them. Alaefin and Ilyra, along with three other Guardians, have been granted magical powers to combat these demons. Together they must leave to join forces with the other Guardians and attempt to save Deloria.
Matthew Thompson's tag cloud