Mary Berger
Biography
A native of Michigan, where she earned her arts degree, Mary A. Berger is an award-winning author whose writing has appeared in The Saturday Evening Post, Ladies' Circle, and Today's Family, as well as in various small-press publications and her local newspaper, the Times-News.
She currently occupies her time with the Friends of Henderson County Public Library, her homeowners association, her pottery, and her church. Married fifty-two years, Mary has two daughters, four grandchildren, and two "greats." And, yes, she plans to write more adventures for Mattie. Stay tuned. Readers interested in sharing their observations may reach the author via email at ohminc@bellsouth.net.
Books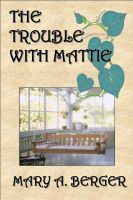 The Trouble with Mattie
by

Mary Berger
(5.00 from 1 review)
Set in NC, The Trouble with Mattie is the story of the youthful, dynamic, comical, and recently widowed Mattalie Morgan, whose conniving stepdaughter dumps her in a crooked housing set-up for "needy" adults, turning Mattie's world upside down. But the housing owners don't care; they're sharks. Soon, Mattie is battling the ranks and her stepdaughter, who flew the coop with Mattie's estate money.
Mary Berger's tag cloud