maverick jr.,iii
Biography
Maverick Jr., III is my pencil name. I haven't been publishing my works long enough and sold enough of my material to earn a pen name yet. I have a serious side, but 99% of the time I am making people laugh. This is the single most important talent I was blessed with that earns me a few more days on this earth. My English teacher in college tried to convince me to change my major to English. This was before she flunked me for plagiarism. I didn't think it was my fault though. In high school they said you just had to give credit for direct quotations. I wasn't aware that if you read some material and paraphrased the material in your own words that that was plagiarism. I had a B+ or A- average at the time. I was in pre-med but couldn't stand the sight of blood. Also, I was told I had to take a language in college to get into medical school. After four courses in French, I could say "Qui" and "Nest Pas". I had to take French three twice and never did pass. My English teacher said I had a great imagination. I never did learn to spell. We just had to memorize words. They didn't teach phonics in my school. I have an even chance with the spell checker. I am sixty five and even the doctors tell me I look at least ten years younger. I was a frustrated athlete. I had so many bad breaks in my sports that I would laugh if I didn't spend my time crying. I built two businesses, the last one lasted twenty three years and grossed over two hundred million before the business hit the brick wall at two hundred miles an hour. I was drafted into the Viet Nam era and tried to fly jets in the Air force instead. I have been married to two different women for twenty years or more twice. I think I got married when I was ten. I have eight grand children by two boys. I imagine my works in my mind before I write. The boring part is actually writing them on paper or the computer. I have already entertained myself by my thoughts. The rest is for the reader's benefit. I am working on a web site, but my skills are very limited in this area, but I am not giving up. I have finished about 80% of the Web Page. I hope to have it up and running soon.
Where to find maverick jr.,iii online
Books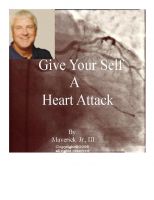 Give Yourself a Heart Attack
by

maverick jr.,iii
This book will take the reader through an actual heart attack as it happened to the author. I will let you see and feel everything that happened to me and my thought process as I experienced my attack. I will let you relive the attack, the feelings, the fears, and the actions that I took and why. If this book saves just one person, then I will consider it a success.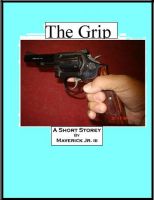 The Grip
by

maverick jr.,iii
The Grip is a short story satire about how a hobby or interest can become an obsession. This story takes the reader on a journey of an out of control perfectionist that lacks the talent to accomplish their goals. Anyone can become caught up in the frustration of falling short of their dreams.This is a short story. It is meant to be read in one sitting. Only one paragraph indention at the start.
maverick jr.,iii's tag cloud