Max Frick
Biography
Max Frick was born in Scotland where he spent more than half of his life thus far in a new town not dissimilar to the one depicted in his novel Debaser. At the age of twenty-five, seeking something a little more fulfilling than the drudgery and routine that his hometown had to offer, he upped sticks and moved to Prague in the Czech Republic, where he imagined artists and bohemians drank freely and deeply from the cup of life. There he would write! There he would shine! There he would make his name! There, alas, he lives to this day in a life of drudgery and routine not dissimilar to the one depicted at the beginning of this bio.
Where to find Max Frick online
Books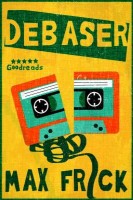 Debaser
KIDNAPPED! BEATEN! RAPED! KILLED! EATEN! screams the hyperbolic headline in one tabloid newspaper. A clearer cut case of murder, then, it would be difficult to imagine. But is there less to this than meets the eye?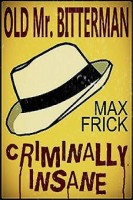 Old Mr Bitterman: Criminally Insane
(4.67)
A day in the life of a septuagenarian serial killer at odds with the modern world. If you like your psychopathic murderers a little long in the tooth this could be right up your street.
Max Frick's tag cloud