Mark Bannerman
Biography
Mark Bannerman is the pen-name of Anthony Lewing. Tony served for 35 years in the British Army, during which time he was posted to many overseas stations. He has had hundreds of short stories published in men's magazines, women's magazines, children's annuals and newspapers, and has had been awarded several literary prizes. On retirement he took to writing full time about his first love -- the American West, which he has toured several times. Under Robert Hale's Black Horse Western and Ulverscroft banners he has had some thirty novels published, including a Cornish saga, and has accrued a large library of Old West reference books. He has also taught creative writing to adult students. Mark passed away in 2013.
Where to find Mark Bannerman online
Books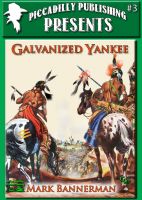 Piccadilly Publishing Presents #3: Galvanized Yankee
From the bloodstained fields of the Civil War, through a brutal Indian campaign and finally into the greedy, lawless world of the Montana goldfields, Jared Harris is relentlessly pursued by mysterious enemies. Who are they, what do they want … and why him? 3rd in the exciting Piccadilly Publishing Presents Series.
Mark Bannerman's tag cloud