M Blevins
Biography
With a 10 year history of helping people in various aspects of their life, I have seen too many people struggle with their finances and credit. After helping friends and family to repair their credit, I decided to start my own credit restoration company. I am a Credit Specialist registered in the State of Texas. As credit repair is a tricky endeavor to undertake, and expensive to pay for, I decided to write about the topic to help people navigate the murky waters. I have tried to share my knowledge with my clients and I relish helping to educate the public. As Credit Bureaus and Collectors are ruthless in their behaviors, I feel it's time to arm the public with the hints and secrets that you can't find without having a mentor or spending endless hours on the internet. I had to pay, over time, thousands of dollars in order to be educated on what this book teaches in a short amount of time. My hope is that people who can afford credit restoration, can still benefit themselves and their families by getting back on track.
Books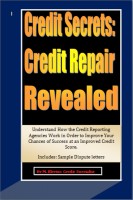 Credit Secrets: Credit Repair Reveled
by

M Blevins
This book is a crash course in understanding how creditors and credit bureaus work by providing little known information regarding how the dispute process work. You will be provided tips and instructions on how to restore your credit on your own as well as being provided sample letters for your use.
M Blevins' tag cloud