McCamy Taylor
Biography
McCamy Taylor writes speculative fiction. Over the last decade and a half, her stories have appeared online at fan-zines, including Aphelion, where she is now the long fiction editor. Several of her longer works have also been self published. A physician with a BA in English/Biology and a Masters Public Health, her interests include literature, biology, medical science, anime/manga, politics and Zen Buddhism. She is also an artist, specializing in mixed media. Her biggest literary influences are William Blake and Roland Barthes. Her favorite speculative fiction writer is Tim Powers.
Where to find McCamy Taylor online
Books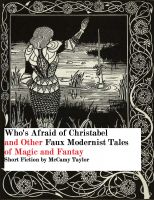 Who's Afraid of Christabel and Other Faux Modernist Tales or Magic and Fantasy
by

McCamy Taylor
In this collection of short stories, science fiction and fantasy author, McCamy Taylor pays tribute to some of her favorite writers. There is a ghost story about young Virginia Woolf. William Faulkner encounters an angel. Sherlock Holmes solves the mystery of Jack the Ripper. William Blake's poems save a world. For those who read and ask "What if?" when the story is over.
McCamy Taylor's tag cloud