Steven Kent McFarlin
Biography
Steven Kent McFarlin (AKA "Spanky") is an award-winning performer, published author, magazine columnist, recording artist, and television writer & producer. He has performed in all 50 states and 23 countries, twice voted "Comedian Of The Year," once "Campus Performer Of The Year," and winner of a "Cable Ace Award." He has over 50 TV appearances, including: THE LATE SHOW, SHOWTIME, GOOD MORNING AMERICA, as well as popular dramas such as ER and PROFILER. McFarlin's comedy writing experience involves everything from Joan Rivers stage act, to VH-1's Rotten TV (featuring Johnny Rotten), to a monthly magazine column for Campus Activities Today (distributed to 4,000 colleges nationwide). As a television writer & producer, he has developed comedy for Spike-TV, World Theatre, and Infinity Broadcasting. He also created humorous advertising for Gillette, Mini Cooper, Lone Star Beer, National Football League, Burger King, and others.
Where to find Steven Kent McFarlin online
Books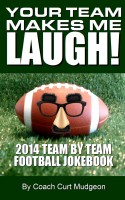 Your Team Makes Me Laugh
by

Steven Kent McFarlin
You are in a sports bar when a fan of your rival starts talking trash about your team. Coach Curt Mudgeon has your back. He gives you the verbal ammunition to shoot them down with enough wit and humor to earn the admiration from all within earshot. Each team's chapter has a humorous essay mostly filled with facts their fans don't want you to know, followed by ten funny insulting one-line jokes!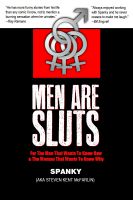 Men Are Sluts - For the man that wants to know how and the woman the wants to know why
by

Steven Kent McFarlin
"Quite simply, males are creatures that can be aroused by reading about the hole in the ozone. I think there are just two types of men: the men that want to have sex all the time, and the men that are... dead." Those are the words of award-winning comedian, Spanky, author of "MEN ARE SLUTS," the hilarious book written for the man that wants to know how and the woman that wants to know why.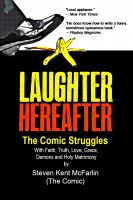 Laughter Hereafter - The Comic Struggles
by

Steven Kent McFarlin
Everyone tells you to have a nice day But no one tells you how...Until now. Laughter Hereafter details the "comic struggles" with faith, truth, love, grace, demons, and holy matrimony. Written by an award-winning professional comedian (who has been described as a cross between George Carlin and Deepak Chopra) this hilarious book is as entertaining as it is insightful. Cosmic Comedy at it's best!
Steven Kent McFarlin's tag cloud