Millard Delvison
Biography
Millard Delvison has been making art since 1960. He is an art magnet and is going to share all he knows about the subject to anyone who wants to know. Millard has opened community service programs to help the young compete in today's society in his hometown. His many commissions for portraits and graphic designs have helped him put together manuscripts about art to share with other artists and the public.
Smashwords Interview
Videos
ArtScape 1993
This video takes a look at Millard Delvison and his wife while attending the world famous Artscape.
Books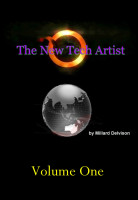 The New Tech Artist Vol. I
by

Millard Delvison
The latest book on fine art drawing techniques is here for the public. This ingenious book gives readers more understanding of how art is made and meticulously thought-out. The vital information in this book will satisfy any artist trying to improve their work. This book is a must-read for all people who love art and are curious to know how to make it.
Millard Delvison's tag cloud