Darlene O'Dell
Biography
Darlene O'Dell is a writer and teacher who lives in North Carolina. Her most recent book for adults, The Story of the Philadelphia Eleven, is scheduled to be released by Seabury Books in the Spring of 2014. Also for adults, she has published I Followed Close behind Her and Sites of Southern Memory: The Autobiographies of Katharine Du Pre Lumpkin, Lillian Smith, and Pauli Murray. Read her essay "That Little Blue Boy" in Sugar Mule Literary Magazine at Sugarmule.com. Purchase her ebook, The Red Hen Diner (a mystery for 8-11 year olds) here on Smashwords and visit indigoislandbooks.com for more on The Red Hen Diner, including Hannah's blog, Candice's newest zine, and the opening chapter of her coming mystery for 8-11 years olds: The Secret of Sugarbrush Farm.
Where to find Darlene O'Dell online
Books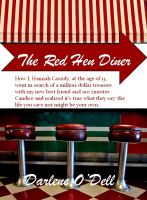 The Red Hen Diner
by

Darlene O'Dell
How I, Hannah Cassidy, at the age of 13, went in search of a million-dollar treasure with my new best friend and ace zinester Candice and realized it's true what they say: the life you save just might be your own.
Darlene O'Dell's tag cloud