Rebecca Long
Biography
Raised in the military, my childhood is scattered across the U.S. and Europe. I have held many jobs in my working life. Some have been quite interesting. Many have not been. But, everything that brings you experience is ultimately for your good. While I have never earned more than $10/hr(except when getting overtime) I have managed to pay off my education and buy a house. I decided early on that if I could learn to live on very little that was the best job security I could give myself. Considering the economic state of the world over the last few years, I don't think I have been entirely wrong.
Smashwords Interview
Books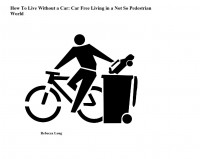 How to Live Without a Car: Car Free Living in Not So Pedestrian Times
by

Rebecca Long
Concise and packed with practical advice on surviving and thriving without a car, this book is for anyone who is facing life without a motor vehicle or anyone who is considering it.
Rebecca Long's tag cloud