Edward Smith
Publisher info
Edward and Debbie Smith give new meaning to the term "Power Couple". With a foundation built on their belief in God, they enthusiastically embrace their mission to help others reach their full potential in life. Edward and Debbie are business partners, friends, and lovers. Together, they are raising three children while building their businesses, leading out Couples' Ministry in their local church, and growing as Life Navigators. Edward and Debbie both understand the devastating effect of divorce from their personal experiences. Because of this, they are determined to become champions for successful marriages! They understand that strong marriages lead to strong children and families, which lead to strong churches, which ultimately lead to strong communities.

The Smiths enjoy doing all things together. They often travel from state to state speaking to others about entrepreneurship and business ownership. Because of their passion for families, they enjoy facilitating workshops and retreats for couples and families. As Life Navigators, they are committed to helping others aim higher and reach further. Edward and Debbie have a big vision for the future. It is a vision that involves helping as many people as they can develop a progressive mindset so they can live life to the fullest potential. It is a vision they fully plan on realizing because ALL things are possible with God!
Books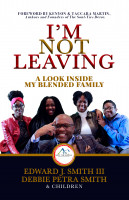 I'm Not Leaving: : A Look Inside My Blended Family
by

Edward Smith

&

Debbie Smith
I'm Not Leaving: A Look Inside My Blended Family is a powerfully moving story of 5 individuals struggling to find their synergy as a family unit. Written from the different voices of the biological parent, step-parent, and the children, this book is not filled with clinical jargon, but real life experiences and emotions.
Edward Smith's tag cloud