Meghan O'Hern
Biography
Meghan O'Hern is a student at Bradley University in Peoria, IL where she studies English and Creative Writing. She has previously been published by Dark River Review, Poetry Breakfast, and The Voices Project, among others. Her work focuses on themes of feminism, mental health, disability, and identity. She was shaped by the creative writing community of Writehouse Ink at Bradley University, and could not have created this chapbook without them.
Books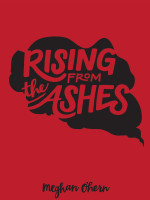 Rising from the Ashes
by

Meghan O'Hern
Meghan O'Hern's. Rising from the Ashes, introduces a sophisticated collection of poems within a plethora of poetic language. This collection presents the common pursuit of happiness, tangled within a web of a fascination to exist, yet it explores the desire to let all things pass away. The work creates a cosmic connection between the reader and the poetry with delicately arranged diction.
Meghan O'Hern's tag cloud