Melissa Field
Biography
Melissa was born and raised in the central valley of California. Although she has lived and traveled many places, this corner of the world will always inspire her. It's a place where commerce and farm life co-mingle in a unique mix of modern and natural. Her home city of Modesto contains a quarter million residents, but a quick bike ride will take you outside the city and past orchards of peaches and fields full of dairy cows. Amongst the places she has lived, Antarctica and Holland were the most interesting and life-changing. She's grateful to have lived in such varied places and always on the look out for the next opportunity, the next place full of quirky people and soul expanding experiences.
Where to find Melissa Field online
Where to buy in print
Books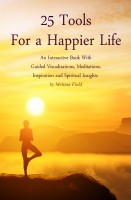 25 Tools for a Happier Life: An Interactive Book With Guided Visualizations, Meditations, Inspiration and Spiritual Insights
by

Melissa Field
These 25 pieces of inspiration will help you with everything from dealing with fear and anxiety to waking-up feeling excited for the day. Each section contains a link to a relevant video that will either lead you through a meditation, a visualization, or expand on the inspiration and deepen your experience with the words you read.