Melody Ryan
Melody grew up in a small town similar to the fictional Laughing Deer. Much closer to Denise's year of birth than Taylor's. Therefore, Melody saw the town and the country change over the decades. Some for the better, some for the worst.

Melody remembers typewriters, Princess phones, and the other museum antiques people once accepted as every day objects. Melody also sees the tremendous opportunities in the current high-tech world.

Although Melody believes time travel impossible, she enjoys such stories. Some, like the Highlander series, simply send a modern person into the past, so make historical fiction closer to our hearts, by seeing the past through the eyes of a modern person.

In some respects, Robert Heinlein took time travel to the ultimate extremes, with "All You Zombies."

If time is just another dimension of space, and our experience of it simply limited to the present by our conscious minds, then what would it be like to see eternity?

Could we be connected through time in ways we don't understand yet?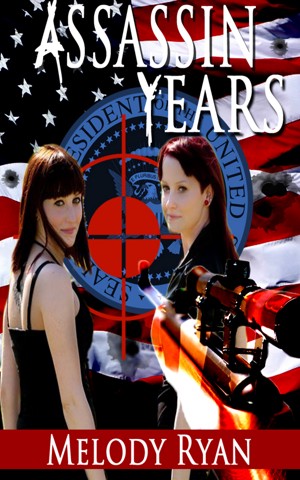 Assassin Years
by

Melody Ryan
In October 1968, teenager Denise falls asleep one evening. So does, in October, 2012, Taylor, also 17 years. In the morning, they discover they exchanged personalities. Denise wakes up in 2012, in Taylor's body. Taylor now occupies Denise's body and time. Each must learn to cope with the forty-four-year switch. And each attends a presidential campaign speech central to a plot to destroy the USA.