Robert Rausch
Biography
Robert Rausch is a thirty-year tournament chess player who founded and coached the award-winning Carroll Independent School District chess club in Southlake, Texas. Mr. Rausch has served as an organizer and tournament director for scholastic events and has written a recurring column for the Texas Chess Association magazine entitled Chess Dad 101 that focuses on parenting issues.

Mr. Rausch and his wife Wendy achieved notoriety in 2010 by purchasing a local newspaper advertisement offering free babysitting services from their daughter Kirstin. The ad, intended as a punishment, triggered a national discussion on parenting and discipline and led to extensive local media coverage as well as guest appearances on Fox and Friends and the CBS Early Show.
Books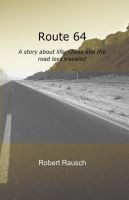 Route 64: A story about life, chess and the road less traveled
by

Robert Rausch
Route 64 is a personal, sincere and funny look at one man's journey from childhood to parenthood with chess being the common theme. From adolescent player to the parent of a prodigious daughter, the author's life unfolds as he explores the passion and intensity that lead players and their families to attack the game with a religious fervor.
Robert Rausch's tag cloud