Meredith James
Biography
Elwyn Meredith James was born in January 1931 in the seafarers' village of Dinas Cross, Pembrokeshire, and attended the local council school and Haverfordwest Grammar School. Growing up during the Second World War he enjoyed village life and life within the local Baptist Chapel.
His father and grandfather were seafarers and under their influence he went to sea in October 1946 at the age of 15. In 1960 he left the sea, got married and went into the building trade as a painter and decorator until he retired.
During all these years he considered becoming a Baptist minister. From an early age he became obsessed with the question of the reason for his being and of existence itself. His mind remained in the study of theology and throughout the years he has written many manuscripts concerned with the analysis of theology though none of this work has been published.
He has spent a great deal of energy trying to verify his theory that existence is from one source, one nucleus. Giving up writing in the 1990s, he decided to take it up again in 2002, culminating in this work.
Anyone reading his work should bear in mind that he is not trying to please anyone but simply trying to satisfy his own mind in the belief that satisfaction is the key to all things.
Books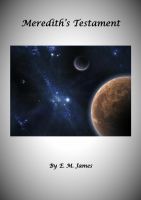 Meredith's Testament
by

Meredith James
(5.00 from 1 review)
The result of a lifelong interest in philosophy, religion and the nature of existence, Meredith's Testament is a personal meditation on the role of religion in our lives. First published 2012, revised 2013.
Meredith James' tag cloud