Merry Farmer
Biography
Merry Farmer is an award-winning author of Historical Romance and Women's Sci-Fi. She is passionate about Writing, Blogging, and Cricket and working towards becoming a successful author and an internationally certified Cricket Scorer. Her other hobbies have included knitting, theater, and going back to school to earn more degrees in arguably useless subjects like History and Theater than any sane person should have.
Where to find Merry Farmer online
Series
Books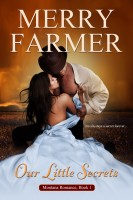 Our Little Secrets
by

Merry Farmer
(4.67 from 3 reviews)
She thought she could escape to the West and start a new life… People are hunting Charlotte Baldwin, missing heiress--but no one is looking for Charlie West, bride of humble frontier shopkeeper Michael West. Marrying him was the cover Charlotte needed to keep her secrets hidden. But what starts as a marriage of convenience turns hot in a hurry.
Merry Farmer's tag cloud
Merry Farmer's favorite authors on Smashwords