Michael Dolan
Biography
Short biographies on the back of books always seem to try and validate the person writing the book and for good reasons, but my place is not to validate, only to give. My bio is simple. I was born in the mile-high city of Denver, Colorado 43 years ago. I have lived all around this beautiful world of ours, from Europe to Alaska, to my current home in the Middle East. My education is that of the experiences life gives and school is far from being out for me. I am a lover of life, a life adventurist. I love to travel, meet new people, and experience new cultures. I have been given a great opportunity to see life in a different light and wish to share this with you.
Where to buy in print
Books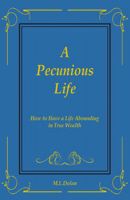 A Pecunious Life
by

Michael Dolan
The book A Pecunious Life written by Author Mike Dolan has great advice for improving ones life, not only does the author write details of how to become more wealthy, but he incorporates his own experiences which are woven into lessons of life quality. Learning from the past,learning from mistakes, learning from beliefs or mis-beliefs, life-altering events,and includes exercises for understanding.
Michael Dolan's tag cloud