Michael Estabrook
Biography
I'm a Marketing Communications Manager for a tiny division of a gigantic billions-of-dollars company, and man, going into an office every day can be excruciating. The stuffy air, the florescent lights are killing me. Thankfully I can retire in 10 or 15 years. But I still think that somehow I've got to get myself on some boat collecting phytoplankton, or into the rich brown hills of Montana searching for TRex bones. Then again maybe I simply should've stayed on Northfield Avenue where I belong and learned to fix cars like my Daddy did.
Where to buy in print
Books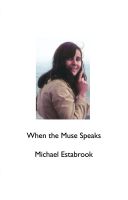 When the Muse Speaks
by

Michael Estabrook
A poetry collection about how much the poet adores his wife and how much she inspires him to write poetry. The poems also were featured in the monthly magazine, The Moon.
Michael Estabrook's tag cloud