Michal Fabian
Biography
Michal plays with words for a living. He is a translator by profession, a traveler by passion and a musician by... some ironic divine intervention, most likely. A friend talked him into joining the local grunge band back in high school days. He hasn't looked back since.
Michal has taught music to underprivileged children in Botswana, Africa and still jams with his pals whenever he can. He has written articles on sports, traveling and betting for various magazines. 'The Basst Of' is his first published book, with more to follow soon.
Books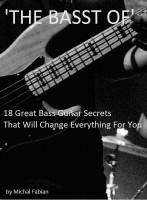 The Basst Of - 18 Great Bass Guitar Secrets That Will Change Everything For You
by

Michal Fabian
This book will not tell you about scales, arpeggios or harmonics. Those things are important, of course - but there's more to it. 'The Basst Of' is for beginner to intermediate players and it presents you with 18 great and amazingly simple tricks that will help you take your playing to the next level.
Michal Fabian's tag cloud