Michele Ferris
Biography
Fitness expert and Professional nutritionist, Michele Ferris, was born in 1973 Illinois, Chicago, United States and resides there with her family. Michele is a nutrition scientist with more than 14 years of professional experience. Right from the cradle, she has been raised on a healthy eating.
A graduate of University of Illinois, Chicago with BS in Nutrition Science and at the moment works as a professional nutritionist.
She is passionate about handling individuals with food intolerances. Michele serves her clients by doing thorough consultations by offering recommendations tailored along individuals' lifestyle, nutrition, yoga, herbal medicine and all-purpose body fitness.
It has been her center of attention in research and clinical practices in finding out a linkage between food intolerance and chronic conditions like diabetes, cancer and arthritis.
Michele is well known in her community as a educator, advisor, mentor and author.
This book "The 30 Day Ketogenic Vegan Meal Plan: Best 90 Healthy And Delicious Vegan Recipes" is as a result of her life-changing experiences encountered with her several clients. It is her own bids to help several American individuals and families keep a perfect shape, eat well and above all live a healthy lifestyle.
Michele is an affable and loving personality. She loves using her time with her friends and family and enjoys doing yoga with her daughter, Amanda.
She is a committed learner and researcher that love teaching her values of living a healthy toxic-free lifestyle.
Books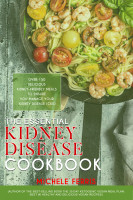 The Essential Kidney Disease Cookbook Over 150 Delicious Kidney-Friendly Meals to Ensure You Manage Your Kidney Disease (CKD)
by

Michele Ferris
In The Essential Kidney Disease Cookbook renal dietitian, Michele Ferris provides you dietary plans to establish long-term dietary changes to slow the progression of the kidney disease. She knows that it can be so frustrating and confusing to figure out which foods to eat and which to stay away from. In her comprehensive renal diet, she details recipes that keep your potassium, sodium, phosphorus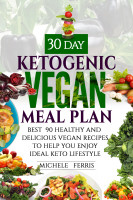 The 30 Day Ketogenic Vegan Meal Plan: Best 90 Healthy and Delicious Vegan Recipes
by

Michele Ferris
Veganism is an emergent ideology based on the idea that all sentient beings should be respected, and that the consumption of animal products of any type is an immoral practice that breaches this idea. Given the inexcusable atrocities committed against animals in the meat and dairy industry; it is easy to understand why people feel so powerfully supporting the Vegan movement.
Michele Ferris' tag cloud