Michelle Rau
Biography
Michelle Rau self-published her first cartoon book at the age of eight and has been making and writing things ever since. Her creative output includes photographs, cartoons, jewelry, paintings, crochet and fabric arts, graphic design, product and web design, short stories, paper arts, plays, scripts, and of course poetry. During the zine and self-publishing boom of the late 1980's and early 1990's, Michelle's poetry, cartoons, reviews and essays often appeared in zines or independent magazines such as Factsheet Five, Off Our Backs, Lana's World, and the Alternative Press Review.

Michelle returns to creative writing after nearly twenty years of academic papers, intranet content and organizational announcements. Michelle grew up believing that a day indoors is a day wasted, that we are all tools designed for a higher purpose, and that being active and doing things with our hands is a spiritual practice connecting our body, mind and spirit. She sees herself as practical instead of romantic but the reader may beg to differ. She currently divides her time between her day job and her creative life, shuttling between home improvement projects and outdoor recreation in the Pacific Northwest and the Southwest. An enthusiastic cyclist and kayaker, her other passions include biology, women's health, and design.
Books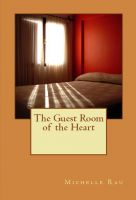 The Guest Room of the Heart
We've long known that the dryer is a portal into another dimension for stray socks, but where might wind chimes, a tidepool or a package of bacon take us? Into the Guest Room of the Heart, where everything has a deeper meaning and a higher purpose. This first collection expands on themes of life, sex and love for a diversely entertaining, deep and subtle read.
Michelle Rau's tag cloud