Fiona MacFarlane
Biography
I was born in Tasmania, Australia in 1973 and at the age of five I moved to Victoria with my family. After my graduation in 1995 I moved back to Tasmania and a few years later I began working as an Archivist with the Archives Office of Tasmania, now known as the Tasmanian Archive and Heritage Office. It was here I fell in love with Tasmanian history and decided to utilise my extensive historical research skills by writing an historical novel, Breakfast at Midnight. My next novel, The Married Spinster, is also historical fiction and is set in New Norfolk, Van Diemens Land (Tasmania) in 1826, when the infamous bushranging gang, led by Matthew Brady, was terrorising the colony. In addition to my novel writing, I am a keen poet.
Books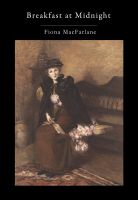 Breakfast at Midnight
by

Fiona MacFarlane
(3.00 from 1 review)
Hobart, Tasmania, 1894. From the mouldering cells of Port Arthur to the sun-dappled grounds of Wintersleigh House, Breakfast at Midnight analyses the expectations placed on young people by family members and by society as a whole. It also explores the polarised society of the mid 1890's, a time when trenchant Victorian conservatism and burgeoning feminist ideals seemed increasingly incompatible.
Fiona MacFarlane's tag cloud