Michael Garver
Biography
Michael Garver is a Vietnam veteran and served as a Deep Sea Diver. Before his tour he trained in the Panamanian jungle for wilderness survival and jungle warfare. During his service he was wounded and spent six weeks in the Army/Navy hospital in VietNam, then following his discharge he returned to California. In search of adventure, he traveled to South America to hone his survival skills and live off the land for two years in the Altiplano of Peru, and into the jungles of Bolivia and Ecuador with a donkey carrying his gear. He eventually returned to California and earned a Bachelor's degree in Agronomy, and Master's degree in Genetics. Since then, he has been a field geneticist for a major seed company, landscape designer, construction supervisor, and consulted for Southern California Edison, helping people save money, energy, and the environment. He currently resides in Southern California where he is president of Get-Ready, a company that assists households in personalizing their Go-Bags, Bug-Out-Bags and stockpiling emergency supplies.
Where to find Michael Garver online
Books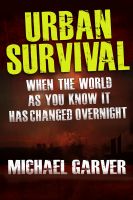 Urban Survival: When the World as You Know It has Changed Overnight
by

Michael Garver
If you were suddenly thrust 150 years into the past, would you be able to survive? Disasters happen…hurricanes, earthquakes, tornadoes, a prolonged electrical outage, or even a terrorist attack…if such an event happened in your town or city, could you survive an event when the world has changed overnight? It is never too early to start preparing for a crisis, and Urban Survival can help.
Michael Garver's tag cloud