Mike Whitacre
Biography
A fiction writer, carving his own gruesome path through his writings. Striving to be more proactive in sharing his work, as well as piling on too many projects to have any time for anything. Currently, he'll be publishing short stories periodically in e-book formats, whether part of a serialization or not. He often mixes genres, but is primarily interested in the Crime/Mystery genre that utilizes the style of hard-boiled writers like Raymond Chandler. He lives in California, making too many damnable mistakes.
Where to find Mike Whitacre online
Books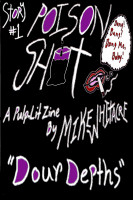 Poison Shot - Story #1: "Dour Depths"
by

Mike Whitacre
Poison Shot is a pulp-lit zine giving a rough-shot story for each lousy release, and each story is filled with more ugly sin than you can howl at. The first story is called Dour Depths." It's about a bad day ending in a bad night for one poor soul, and it might've gotten too bad, so much so that his mind went off the deep end. Or maybe there's something more to the story. Could be interesting...
Mike Whitacre's tag cloud