Mimi DiLatese
Biography
I was born and raised in Chicago. I am definitely a dreamer and a believer that all things are possible. I am also a sucker for a happy ending and I am always rooting for the underdog. My first book "Dump Him" is not all about bashing guys. It's about the journey through the course of relationships and the self discovery that takes place when you truly realize that you deserve the best.

One of my favorite movies is "Pretty Woman". I love it because in the end when so many women would have just settled with what they were given because it was better than what they had in the beginning, this woman chose not to accept that. Even though she was a call girl she knew that she deserved the fairy tale. Writing "Dump Him" was my way of telling my inner Vivian that I deserved the fairytale as well.

I am excitedly working on my next book and grateful for all the experiences that have made me who I am. I hope on some level when you read my books you get a sense that I understand your journey. Though I may not have walked a mile in your shoes, I have experienced hurt and pain. I have loved and lost and loved some more. I've had many "what the heck was I thinking" moments. On some level as women we can somehow find a common thread that connects our experiences.

I thank you for taking this journey with me...
Books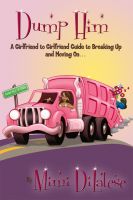 Dump Him
by

Mimi DiLatese
Dump Him is a quick girlfriend to girlfriend guide to leaving behind those temporary "boys of summer" who bring you nothing but heartache and grief. Though it may not be easy you might soon discover that in getting rid of the old, you lead yourself back to a more renewed version of you.
Mimi DiLatese's tag cloud