Miranda Syn
Biography
Miranda Syn disguises herself as a "prim and proper" executive assistant during the day, using her downtime at work to fantasize about all sorts of naughty, dirty scenarios. When the suit comes off and the pantyhose goes flying, the 26-year-old hauls out her Super Secret Sex Laptop and begins tapping out steamy stories for your enjoyment. Miranda's into hot alpha males, Domination/submission themes, rough sex, sex in public places, quirky situations that sometimes include paranormal elements, and menages. She hopes you enjoy her "synfully" delicious treats!
Where to find Miranda Syn online
Books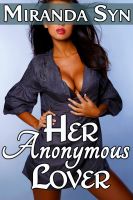 Her Anonymous Lover
by

Miranda Syn
For Sarah, a masquerade party is a great way to start the weekend—and scope out the hot men. There, a handsome masked stranger joins her on the dance floor, and she is swept off her feet in more ways than one by his gorgeous physique and his sensual assault on her senses. When he pulls her into an empty office to have his way with her, she is eager to comply and gives herself to him.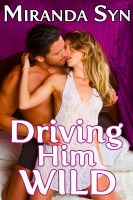 Driving Him Wild
by

Miranda Syn
Knowing that her hot neighbor can see through her bedroom window, Lynn decides to put on a show for him every night. Her sexy little shows drive Beau wild with desire, and all he wants is to show her just how much she turns him on. One night, as she pleasures herself while he watches, Lynn invites him over for some hot, passionate sex.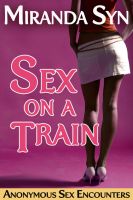 Sex on a Train (Anonymous Sex Encounters)
by

Miranda Syn
A crowded subway ride proves to be much more pleasurable than usual for college student Claire Taylor, who secretly fantasizes about having steamy, anonymous sex. When a handsome older man makes his lust for her body known, he ignites her desire with his caresses. The thrill of the forbidden proves too much, and Claire offers herself to the stranger right there on the train.
Miranda Syn's tag cloud