Miriam Feinberg
Biography
Miriam Feinberg Vamosh is the author of several informative, illustrated books about ancient times in the Holy Land. But it is her novel, The Scroll, a multi-generational historical novel about the survivors of Masada, which perhaps best reveals who Miriam is. That is because it delves into the issues that bedevil her and the people closest to her, all of whom are trying to make sense of the complexities of their country, Israel, its history, people, and the choices their leaders make. She is also the author of Teach it to Your Children: How Kids Lived in Bible Days (Avi Media), each of whose 12 chapters bring alive different aspects of Bible as seen through children's eyes, and contains an original short story, a "did you know" section and crafts. She also wrote Daily Life at the Time of Jesus, Food at the Time of the Bible, Women at the Time of the Bible, Reflections of God's Holy Land: a Personal Journey Through Israel (with Eva Marie Everson) and hundreds of articles about Israel's history, archaeology and tour sites. Daily Life has been translated into 32 languages, and Reflections of God's Holy Land is especially precious to her and is an award winner (thank you, Eva!). Miriam was born in Trenton, New Jersey, and has lived in Israel since 1970. Her love affair with the Bible and ancient sources, which led to her writing career, deepened over many years as a tour educator -- every visitor who ever asked her a question has earned her gratitude. Miriam's interest in the New Testament began thanks to the abiding respect she learned in her parents' home, and the homes of her older brother and sister, for people of other faiths and cultures, and the tutelage of devoted teachers during a year of high school at what is now the Anglican International School in Jerusalem. Such inspirations encouraged and enabled her to specialize in weaving together Jewish literary sources, traditions and beliefs with the origins of Christianity, and teaching about them on-site throughout Israel. Miriam is also on the editorial staff of the Israeli daily Haaretz. Writing, translating and editing about events that took place millennia ago, together with her work for the news desk of a critical, cutting-edge newspaper is part and parcel of the complexities that for Miriam make life in Israel a never-ending search for meaning. Miriam is married to Arik, is the mother of two wonderful daughters and sons-in-law, and lives near Jerusalem.
Where to buy in print
Books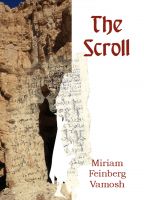 The Scroll
by

Miriam Feinberg
Price:
$4.99 USD.
Words: 103,040.
Language: English.
Published: July 23, 2012
. Categories:
Fiction
»
Historical
»
Ancient
The Scroll draws from a real archaeological find – the divorce document of a woman named Miriam, issued at Masada. The tale spans three generations, beginning on Masada's final, horrific day. It characters must choose between nation and family, and finally, between life and death. Will Miriam's descendants learn the lessons of her life, or will enemies - within and without - rob it from them?
Miriam Feinberg's tag cloud