Mark Israel
Biography
After receiving a Master's Degree in Education from Claremont Graduate School, teaching for five years, and raising four children I have spent the past twenty years as a Writer/Producer in the TV industry writing for shows as diverse as CSI MIAMI to Saving Grace w/Holly Hunter. Recently, I spent a years researching and writing "What Men won't talk about with the Women they Love." Taking a cue from my uncle Psychologist Nathanial Branden, I have always found the intricacies of love, romance, and communication area which can never be over-explored or easily understood.
Books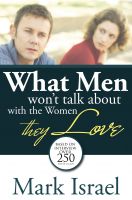 What Men Won't Talk About With The Women They Love
by

Mark Israel
author mark israel has captured (in an interview based format) the hidden truths, secrets and pain which historically men have kept from the women they love. from decades of silence about sexuality and emotions to opening up about love, jealousy, and infidelity - the poignancy of the men's words is sure to make women ask the men in their lives what they're not talking to them about and why?
Mark Israel's tag cloud