Felicity Powers
Biography
Long time classroom teacher and adventurer, I've always seen the world as a grand classroom. Whether we are interviewing train conductors, shelter workers, or CEOs of companies, I have my students investigate real-world issues and gain an understanding of their world through real exploration. I believe kids are as capable as we give them the opportunity to be, and that students with learning disabilities or behavior challenges can thrive in a classroom that is engaged in the real world. This first book is for parents and educators who want to build a curriculum of hands-on study at home. The world is your oyster, get out there and explore!
Where to find Felicity Powers online
Books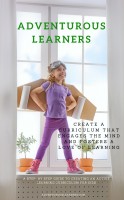 How to Create a Summer Curriculum that Engages the Mind and Fosters a Love of Learning
by

Felicity Powers
A step-by-step guide for parents and educators to create active, engaging learning curriculum for their kids. Written by a K-8th certified teacher with a passion for taking kids out of her classroom and into the world for adventures and learning. Use your child's passions and curiosity to build a curriculum that challenges your child's mind and build's their confidence in their ability to learn.
Felicity Powers' tag cloud