Kent Larson
Biography
I am a native of Phoenix, Arizona currently living in the Salt Lake Valley of Utah. Blissfully married for 28 years, we have two sets of twins and three grandchildren. I am a poster-child for always wanting to be a writer but never doing it...until now!

My favorite authors are Brandon Sanderson, Jim Butcher, David Eddings, Tolkien, Kim Harrison, Glen Cook, Raymond Chandler, Robert B. Parker, and many others. My writing is geared to science fiction/fantasy/detective novels.

I have spinabifida and use a wheelchair to get around easier but can use a cane at home. Teaching is a passion of mine and has been my career for over 25 years. Currently, I am teaching seventh graders so I can never grow old unless I choose. I don't choose to do so.
Books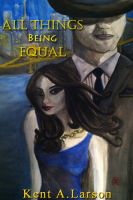 All Things Being Equal
by

Kent Larson
Max was a finder of lost things: hearts, loves, dreams, and, in this case, brothers. He was minding his own business when he is embroiled in the search for a lovely lady's brother. Everyone says he's left with the family funds but she knows better!
Kent Larson's tag cloud