Marina Roy
Biography
I am French Canadian born in a small town in the Gaspe peninsula in Quebec, Canada. I left home at 16 years of age and moved in with my two older sisters in July of 1976 to live in Toronto, Ontario. I have also lived in Vancouver, British Columbia and Winnipeg, Manitoba. I have now returned to the Gaspe peninsula to live. I am the proud mother of a now 25 year old daughter. I love to sing (which I'm pretty good at if may I say so myself), read, old movies, nature and, yes, I enjoy playing the VLTs whenever I can go. I love travelling and I hope to able to see some special places such as Rome and the Vatican and Israel to name a few. I am more spiritual than religious and I have a strong belief in God and the power (s)he has in our lives. I try to learn as much as I can everyday; some days more, other days less. I love to read about history such as biblical history, world history, my country's history, etc. I read books on spirituality, religion, biographies and such. I have many subjects which interest me. The list is endless. I try to shower those around me with my love, my positive energy whenever I'm around them. Yet, I do enjoy sitting home doing my own stuff too. I also enjoy watching the news and know what is happening in the world. I somewhat also enjoy politics.
Series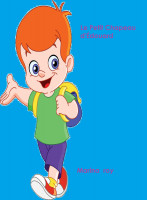 Ed Children's Stories
by

Marina Roy
Ed likes to wear a hat on his nose everywhere he goes. He is chatty, eloquent and talks in rhymes. Ed is the child all parents have or wish they'd have. His positive attitude and thinking is ever present in each story. You and your child will be carried away by the contagious joy that Ed feels while talking about his hat.
Books
Marina Roy's tag cloud