Mark Kleiman
Biography
Mark Kleiman is an American professor, author, and blogger who is a Professor of Public Policy at the UCLA School of Public Affairs. Kleiman is a nationally recognized expert in the field of crime and drug policy and the author of When Brute Force Fails: How to Have Less Crime and Less Punishment, Drugs and Drug Policy: What Everyone Needs to Know, Marijuana Legalization: What Everyone Needs to Know, Marijuana: Costs of Abuse, Costs of Control, and Against Excess: Drug Policy for Results. Kleiman also advises governments from the local to federal levels on crime control and drug policy.
Where to find Mark Kleiman online
Books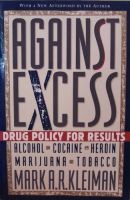 Against Excess
by

Mark Kleiman
(5.00)
Mark Kleiman cuts through the rhetoric of the war on drugs and the legalization debate to discuss the practical options to control a wide range of substances. Both drug-taking and drug-control can be done to excess, and "Against Excess" shows how we can limit the damage done by both errors. It argues we need a middle ground: "grudging toleration" -- neither prohibition nor full legal availability.
Mark Kleiman's tag cloud