Molli McGinnis
Biography
I love writing. It's one of the most important things in my life. Of course it's somewhere under God and my family and friends on my list of importance.
I am a 7th grader at Madison County Middle School, and I love nothing more than creativity, brains, family, and my best friends Damara and Kineta.
Books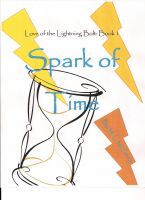 Love of the Lightning Bolt: Spark of Time
by

Molli McGinnis
Dream and stream and bramble thicket, Given a message is their ticket Battles soon to come there'll be. Plants and vision for unity! Taking slumber in sum, Lightning and thunder, to the rescue they'll come. Together four will come to see, The biggest leap in history.
Molli McGinnis' tag cloud