Margaret Rochford
Biography
M M Rochford lives in Sydney, Australia and has over 20 years' experience working in marketing and communication. Her love of reading crime and thrillers led her to take up writing with the objective of creating a book that other readers would find both engaging and compelling. Inspiration for Trinity came from her love of opera and gardening. She has a home in Bowral in the Southern Highlands, two hours west of Sydney, where she does most of her writing and research.
'Trinity' is the first in the Louise Keller PI series. Set in Sydney and rural NSW, the plot revolves around the brutal murder of a famous singer and explores a complex web of relationships, intrigue and betrayal that reveals a number of potential suspects. The action is fast paced with believable characters, strong dialogue and a complex plot. Like all good crime stories, there are unexpected twists and turns before the real killer is finally identified.
Books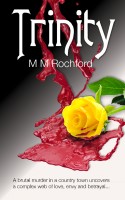 Trinity
by

Margaret Rochford
When the treachery of a senior officer almost ruins her career in the police force, Louise Keller becomes a private investigator and turns her considerable talents for hunting down the bad guys to help people get the justice they deserve. Her first case is to find the killer of a man who had it all - fame, fortune, movie star good looks and recently voted one of the sexiest men alive.
Margaret Rochford's tag cloud