Michelle Tangedal
Biography
Michelle grew up in small-town Saskatchewan, Canada. Lured by scholarships to the University of Alberta, she then completed her Bachelor of Commerce and an after-degree in Education. Michelle currently teaches high school math in Calgary, Alberta; but has recently rekindled her passion for writing. After seven years spent encouraging her students to work hard for their dreams, she finally decided that it was time to actively pursue one of her own. "Written in the Stars" is Michelle's first novel.
Smashwords Interview
Books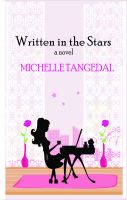 Written in the Stars
by

Michelle Tangedal
(5.00 from 4 reviews)
Jill has always relied on a bit of help from her horoscope in order to make decisions; but at 29, still single and in an unfulfilling career, she is starting to wonder if the stars have led her astray. After a psychic swears that passion lies in Brazil, Jill buys a bikini and books a plane ticket. What the psychic didn't foresee; however, was meeting sexy Andrew before even leaving the ground...
Michelle Tangedal's tag cloud