Ronald Henry
Biography
Ronald Henry was born in Columbus Mississippi to Allen and Marie Henry. He is the 10th of 13 children. He is happily married to the former Ms Vernita Cowles. They have 4 children. Alphonso, Ronitia, Veronique and Majesty. He is also an ordained minister, preaching the Gospel of Jesus Christ for over 10 years. He is also a Master Sergeant in the United States Army, having served over 24 years. This is the first of many books he plans to write.
Books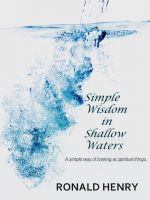 Simple Wisdom in Shallow Waters
by

Ronald Henry
This book is written to give its reader a view of the principles of the Word of God in a way that is simplified but not watered down. This book will challenge you, question you, and hopefully inspire and motivate you in the things of God by giving you a clearer understanding of His principles. The reading will be easy; almost like listening to someone speak to you in a conversation. Be blessed.
Ronald Henry's tag cloud