Mohamud Ege
Biography
Mohamud Ege grew up in the heat and dust of northern Somalia, the son of a family of nomads who were kept constantly on the move by the need to find water and grazing for the camels and sheep which were their only possessions. When Mohamud was five, his father was killed by a snake. A wise uncle then suggested that Mohamud, alone of his family, should go to school.

Mohamud had to sleep on a rush mat, eating little but pancakes and doing his homework by moonlight. But he discovered the joy of reading books and developing a keen appetite for learning. In his teens he began the studies that would enable him to seek a new life in the west. Finally, after years of hard work and many disappointments, he qualified as a doctor in the UK, where he now lives and practises.
Books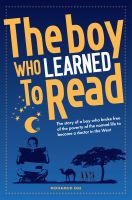 The Boy Who Learned to Read
by

Mohamud Ege
Born into a family of nomads in northern Somalia, Mohamud Ege's life changed forever at five years old when his father was killed by a snake. Thanks to the foresight of a wise uncle, he was sent to school, where he discovered a love of learning. Forty years on, after many adventures and trials, he is a doctor in the UK.
Mohamud Ege's tag cloud