Mohd Asyadi Redzuan
Biography
Senior Lecturer,
Academy of Contemporary Islamic Studies,
MARA University of Technology,
Johor Branch,
km 12, Muar Road,
85000 Segamat,
Johor,
Malaysia
Books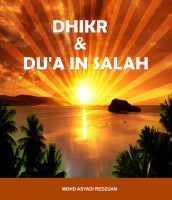 Dhikr and Du'a in Salah
by

Mohd Asyadi Redzuan
This book is dedicated to the reader who are struggling to attain khushoo' (focus) in salah (prayer) by varying dhikrs and du'as recited in prayers. Varying dhikrs and du'as in salah is more conducive to khushoo'. This book is a compilation of numerous dhikrs and du'as which the worshiper can recite during salah.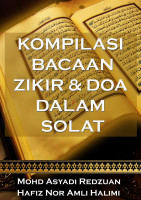 Kompilasi Bacaan Zikir dan Doa dalam Solat
by

Mohd Asyadi Redzuan
Buku ini disusun bagi memberi pendedahan kepada orang ramai tentang kepelbagaian bacaan zikir dan doa dalam solat seperti mana yang terdapat dalam kitab-kitab hadith dan fiqh muktabar.
Mohd Asyadi Redzuan's tag cloud