Molly Colton
Biography
I do not have a degree in writing, nor have I had any professional training. The last thirty years of my life have been my schooling. I have a great respect for the written word, which makes bookstores and libraries heaven on earth to me. I also have a love of history, which will almost always be part of my stories. My second favorite subject is the paranormal. Hence, The Benders.

I love to travel and visit historical sites. But I'm not that boring. I also enjoy visiting the local casinos. If I were to go back to school, I would study foreign languages and possibly, archeology. The ancient world holds just as much fascination for me as the present. As for smaller dreams, if I can ever afford it, I'll buy a piano and learn to play- I don't care if I'm 90 years old at the time. My biggest goal at the moment, is gaining the financial freedom to stay at home and write to my hearts content. Until then, I can only devote an hour here and there to my creative passions. The rest of my time is spent working in a nursing home (not so exciting), and spending time with my family.
Books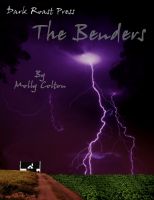 The Benders
by

Molly Colton
Bender, a Fallen One, finds himself in love with a mortal, Georgeanne Quade, and produces a son named Griffin. All three have an extraordinary power: bending others to their will and altering the weather. But for Griffin, this power is a curse. When he falls in love with Bithia Sibbings, he tries hard to become a better person, and ignore his often spontaneous urge to use the 'gift'.
Molly Colton's tag cloud