Abdou Nour
Biography
I am a simple man, wishing all the good and happiness to everyone, I was always bopping to write a book but due to my limited vocabulary that seemed to be a hard task to accomplish, so I taught that an ebook would be much easier, i decided to write this story wich will be the first of a few more that I am planning to finish within the next few months. All of them are part of the moroccan tales that were verbally transmitted over many generation and that I wish to share with the rest of the world.
Books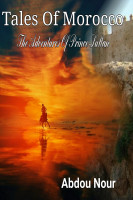 Tales Of Morocco: The Adventures Of Prince Sultan
by

Abdou Nour
Price:
$3.50 USD.
Words: 16,650.
Language: English.
Published: October 20, 2017
. Categories:
Fiction
»
Adventure
»
General
A prince stood against his father to save his sister's life, because of his action he had to live in the forest taking care of his little sister, at the first opportunity for a better life she betrayed him and left him almost dead, would Sultan survive and be on time to save his kingdom? Would he Seattle down or his destiny would lead him to more adventures and perhaps to find love and peace?
Abdou Nour's tag cloud