Morwen Navarre
Biography
Morwen has been writing since she could first hold a pencil, and by all accounts she didn't limit myself to paper. Walls, tablecloths and the occasional sibling were all fair game, and it shouldn't be surprising to learn that markers were banned in her home with all due haste. Although she now contents herself with inconveniencing electrons, the desire to bring the stories in her mind to life hasn't waned.

In her spare time, she reads, putters in the kitchen, and relaxes on her terrace or at the lake, weather permitting, with her corgi who strives to be part muse, part food disposal. She's also addicted to coffee and has a close relationship with her Keurig.
Books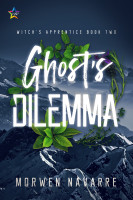 Ghost's Dilemma
by

Morwen Navarre
Ghost is content to spend all his free time with Gerry. But scandal and hate surrounding Ghost's appointment as the first male witch, along with a deadly epidemic, force Ghost to make choices that will separate him from his love.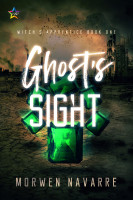 Ghost's Sight
by

Morwen Navarre
Years ago, a bond was forged when a little boy, plagued by dreams and visions he could not explain, became the Witch's new apprentice healer.
Morwen Navarre's tag cloud