M. Rose Flores
Biography
M. Rose Flores has enjoyed writing since she learned how to string letters together. She grew up in the vast green Pacific Northwest of the United States, which with its dense forests, four seasons, and proximity to the ocean made a perfect setting for The End. When she isn't writing on her computer or in a notebook (though scraps of paper and the palm of her hand will do in a pinch), she works as a professional dog trainer and loves every part of it, even the copious amounts of drool. She believes everyone should be represented in literature and all other media. The End is her first novel.
Where to find M. Rose Flores online
Books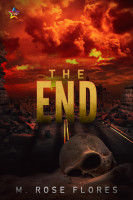 The End
by

M. Rose Flores
After more than a year on the road, Cate has found three things to be true. One: Zombies are a thing now. Two: Not all zombies are just zombies. Three (the game changer): Cate is immune to the infection.
M. Rose Flores' tag cloud