Patrick M Taylor
Biography
Hello, Mysterious Readers of Unknown Origins (Well, at least unknown to me)!
My name is Patrick M Taylor and I am a American writer who just self-published (with the help of this here website) his first short story. I tend to write in whatever genre I feel necessary to convey the story I am telling, so expect to see a wide selection of cross genres (mostly crossed with science fiction or fantasy or surrealism). I hope you enjoy my first short story, "Subjects I: Heteronormativity" and soon-to-follow "Subjects II: Sobriety".
Books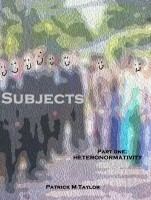 Subjects I: Heteronormativity
by

Patrick M Taylor
The first of many wild romps in the short story series about the non-sequitur neo-autobiography of Tim Morgan.
Patrick M Taylor's tag cloud