Meredith Small
Biography
Meredith F. Small is a science journalist, anthropologist, and former professor. Her previous books take an anthropological look at parenting, mental health, and human sexuality. She has recently published her first work of fiction, a mystery novel starring police Detective Grace McLeod, a troubled, angry woman trapped in a small college town waiting for someone, anyone, to be killed.
Where to find Meredith Small online
Books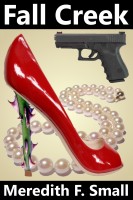 Fall Creek
by

Meredith Small
A once beautiful woman in a little black dress, designer stiletto heels, and a long string of expensive pearls floats face down in a turbulent pool at the base of a local waterfall, her long auburn hair streaming in the current and her skull bashed in. Homicide Detective Grace McLeod knows one thing immediately: this is no suicide...not with those pearls.
Meredith Small's tag cloud